Harvesting fresh herbs at home
Fresh-from-the-garden herbs add tons of flavor, fragrance, and color to your favorite dishes. A quick pinch of basil or mint will jazz up the flavor of your soups, stews, salads, and drinks. Whether you have a green thumb or not, it's possible to have a full, fresh herb garden on your windowsill! In this article, we cover 6 herbs that will thrive in a garden box and delicious recipes to try out using your home-grown herbs.
Basil is an easy-going plant that requires only well-drained soil and a bright, warm place to sit. Fabric pots are recommended to increase airflow, and only occasional watering is needed.
Rosemary requires similar growing conditions to basil, so they can even be planted together. Well-drained soil, lots of sunlight and a pot with drainage holes are must-haves for this herb. Once you get it planted, rosemary is easy to harvest and dry for cooking use.
Mint is a hardy plant that grows towards the closest light source. The plant also requires frequent watering and rich soil, but if pruned or harvested regularly, it will thrive indoors.
Thyme requires a lot of sunlight and regular pruning, but only occasional watering. It is also naturally high in nutrients and should not be fertilized.
Chives are best suited in a pot with pebbles and water below in the sunniest spot in your house. If you keep the soil slightly saturated, chives are easy to grow in small spaces and in any potting material.
Parsley should be grown in an unglazed terra cotta pot. This plant benefits from fertilizer once a month, but only requires watering when the soil is dry.
Looking to use up your herbs? Try out these simple and delicious recipes for a fresh twist on your next weeknight dinner!
Green Goddess Dressing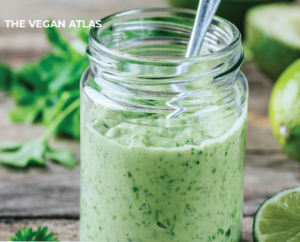 What You Need:
1 cup firmly packed fresh parsley (some stem is fine)
2 tablespoons chopped fresh dill
1/4 cup extra-virgin olive oil
Juice of 1/2 lemon
1 cup peeled, seeded, and chopped cucumber
1 scallion, coarsely chopped
Pinch of salt Freshly ground pepper (to taste)
What To Do:
Throw all the ingredients in a blender and process until the mixture is well-pureed.
Transfer to a bottle with a tight lid, keep refrigerated and shake before each use.
Drizzle over salads and fresh/cooked vegetables.
Serve & Enjoy
For the complete recipe visit: the Atlas Vegan's Green Goddess Parsley Salad Dressing
San Marzano Chicken
What You Need: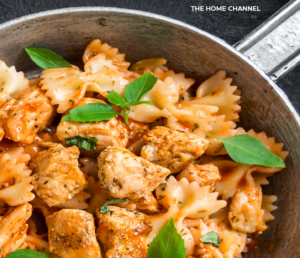 2 Large Boneless Chicken Breasts
1 28-ounce can San Marzano Tomatoes
1 tsp Vegetable Oil
1 tbsp Dried Oregano
 1 Onion (chopped)
2 Bay Leaves
1 Head of Garlic Cloves (thinly sliced)
1 large bunch of Fresh Basil (finely chopped)
1 pinch Salt
1 box of Farfalle Pasta (or your favourite pasta, cooked & drained)
What To Do:
Boil a large pot of water for the pasta.
Splash in enough vegetable oil to lightly film the bottom of a frying pan with a lid. Add the chicken breasts, searing the first side on medium-high heat until its golden brown, or for about 4 to 5 minutes.
Reduce the heat to medium and remove the chicken breasts, putting them aside.
Add the onion and garlic to the pan. Saute for a few moments, then add the tomatoes, dried oregano, and bay leaves. Adjust your heat to bring the works to a slow, steady simmer, not a rapid boil.
Put the chicken back in the pan with the rest of the ingredients, cover tightly and simmer until the meat is cooked through, or for about 10-15 minutes. Be sure to flip them once, allowing the tomato flavours to fully permeate from all sides.
Meanwhile cook the pasta for about 10 minutes.
Cut the chicken into large chunks, toss with the sauce then serve over pasta with a fresh basil garnish
Serve & Enjoy
For the full recipe visit The Home Channel's San Marzano Chicken with Oregano and Basil
Looking for more ideas like this? 
This article was originally featured as part of the 2022 Summer Wellness Guide. Check out this article on more herb recipes and how to cook with fresh herbs. The 2023 Wellness Guide is also packed full of delicious recipes ideas, budget tips, recommendations on avoiding burnout, and more. Download for free here!