Embracing Mindfulness this Summer
This article was originally featured as part of the 2022 Summer Wellness Guide and was written By Karen Zemlack, owner/clinician at Bloom Counselling & Wellness Center in Regina. Click here to meet Karen.
Our summers are short in Saskatchewan, we need to make the most of them. Embracing Saskatchewan summers mindfully is a wonderful way to boost mental health. Nature can play a role in keeping us emotionally, psychologically and physically healthy. Fresh air and exercise have long been recommended to help us feel better physically and mentally.
The quality of our relationship with nature can also influence the positive impact between nature and mental health. Mindful activities involving the use of our senses can improve our connection with the natural world while helping us recognize beauty and find meaning. Mindfulness is a state of non-judgmental awareness of what is happening in the present moment, including the awareness of one's own thoughts, feelings, and senses. How we think about and appreciate our natural surroundings is an important factor in supporting mental health and preventing stress.
How can we embrace nature mindfully? It's easy, start by heading outside. Use your five senses to experience nature in ways you may not have observed before. Take advantage of a summer storm to increase your mindfulness skills. Pay close attention to the fresh smell of rain in the air. Listen to the thunder, the pitter patter of the rain, the sounds of wildlife scurrying around. Feel the electricity in the air, notice how it feels on your skin. Observe the sky come alive with lightning. "Taste" the air and rain to sense how it feels on your tongue. You might see, hear, feel, taste, or smell something you haven't noticed before. Mindfulness takes practice, if you notice your mind wander, gently bring your attention back to mindful awareness.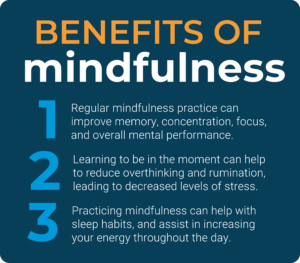 The great news is the mental health benefits of nature can be available to all of us, no matter where we live. Being outside can be cathartic, creating emotions such as calmness and joy. Nature can reduce anxiety and stress, as well as increase our creativity and our ability to connect with others. Try combining physical activity and social contact with others while being outside. Interactive distractions such as going for walks with friends can keep our minds from ruminating and increasing anxious and/ or depressive thoughts. Even small changes to your routine can improve your self-care practices and overall mood. Consider going out and exploring local events happening in your community.
The way you think affects the way you feel. Changing unhelpful thoughts is key to feeling well. The more positive feelings you give to an event the more positive you will feel. Retraining your attention onto nature can help you interrupt yourself from engaging with a stream of negative thoughts, while also tuning into your environment. Also, try to keep a good routine in the summer. Maintaining a consistent routine and a good sleep schedule are always beneficial in supporting mental health.
Get help when you are feeling anxious or depressed, no matter what time of year. Make this summer a season of self-care. Don't wait for something outside of your control to help you feel better. Only you can take action and work on yourself.
The warm summer weather gives us the chance to get out there and embrace what nature has to offer, while at the same time adding joy, serenity, curiosity, and inspiration to our lives. Why not nurture that appreciation for nature – it may even lead to better mental health!
Meet Karen Zimlack, MSW, RSW.

About Karen | Karen Zimlack is an experienced Registered Social Worker, who has worked with clients in various health settings and roles for 20+ years. Karen's passion is to see people establish and restore healthy relationships, and to help people live their lives to the fullest. She does that through a variety of approaches that are research driven and scientifically based. She is eclectic, drawing from years of clinical training, graduate work, and experience. She loves to continue to learn, research, attend training, and absorb resources to enhance her therapeutic skills. Karen is trained in a variety of evidence-based approaches.

Karen began her studies at the University of Saskatchewan completing her BA in Psychology, then going to the University of Regina to complete her Bachelors of SW and Masters of SW.